This is the third annual "A Kimber Krismas" cheesy movie review. I had to change the title since I'm a professional writer now. If you are new to my reviews, click here and here for the links to the past two years of my holiday movie reviews that will fill two gigantic holes in your heart.
Now that your heart is healed, we can start. These reviews are only for those who appreciate the holiday spirit that the Hallmark Channel birthed out of only putting attractive, white people in movies that only take place in small towns during the month of December. Do I condone this? No. Do I watch the movies? Yes. For those of you who enjoy a more moralistic approach to movie watching, this isn't for you.
Organized by streaming platform, all of your work that goes into finding the best cheesy movies ends now.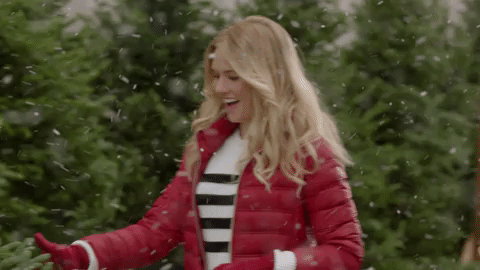 HALLMARK
As I lay down my head at night, I thank God for my family, boyfriend, friends, health, and Hallmark. Hallmark is the queso of cheeses. It's so delicious that you will ultimately fill up on chips and queso and neglect your meal. See where I'm going with this? Hallmark is good, but don't get full.
A Sweet Christmas Romance
The main character's name is Holly whose mom has the exact same voice as Jan Brady. I was too lazy to Google if they are the same actor, because you don't do anything else with your brain or thumbs when you're watching Hallmark because that interrupts the process. If you watch Grey's Anatomy, you will notice Richard Webber's wife is in this movie as well, which is the reason I almost stopped watching it. She is the worst character on the show aside from Izzy (played by Katherine Heigl).
The Spruces and the Pines
If you know anything about Hallmark, you know that they love to recreate famous story plots and turn them into Holiday movies. Generally, they stick to Pride and Prejudice. This year, Romeo and Juliet were their victims. The Capulets and Montagues would be pleased to know that they have morphed into the proud owners of Christmas tree farms: The Spruces and the Pines.
Christmas Camp
This one is your classic plot of a city girl executive, goes to small town, meets a hot guy, and then foregoes her promotion to stay and work at a small business with said hot guy. The leading lady's name is Haley, which is a slight departure from their usual choice of Holly. Anyways, she has to go to "Christmas Camp" to get some holiday spirit. Sign me up. I'm full of spirit, but always down for Christmas-cookie decorating contests, cutting down your own Christmas tree, and going to Christmas group therapy labeled as a camp.
NETFLIX
Miraculously, Netflix discovered the secret plot formula of Hallmark and started making their own cheese. Netflix is the shredded cheese you put on top of your taco. You can never have too much. It never ruins your meal.
Christmas with a View
This is a repeat offender and my favorite holiday movie from last year. It takes place in a hotel restaurant and it just made me happy thinking about how much I love hotels and room service.
Merry Happy Whatever
If for some odd reason you don't have Disney+ and really miss Ashley Tisdale, here's your solution. Netflix created a holiday show! Genius. I have not watched this yet, but I am starting it this week. I promise that you cannot sue me if it sucks; I'm not even a real writer.
AMAZON PRIME
The Kacey Musgraves Christmas Show
If you like sparkles, Lana Del Ray, or James Corden, you'll be into this. Country music's stepdaughter, Kacey Musgraves created this absolute JOY of a production filled with duets, humor, and clap tracks. Pair this with some goat cheese. Not for everyone. But those who love it, REALLY love it.
A Cinderella Story: Christmas Wish
Full on Cinderella plot: Stepmother and two evil stepsisters. Again, if you STILL don't have Disney+ and have been yearning to relive your childhood and watch Cinderella, this is for you.
DISNEY+
Noelle
I'll watch anything with Anna Kendrick. Oddly enough, she's the most successful actor to come from the Twilight franchise. I fell asleep about 20 minutes into this one, but the cheese factor was American slices: you can't go wrong, and everyone likes them. Spoiler: Santa dies. So maybe don't watch it with children?
All jokes aside, the holiday season can be an excruciating time of year for many people. I hope this list brings you some joy and can be a retreat from the struggles that this time of year can bring. Happy Holidays!